Windows Store Crosses 20,000 Apps Milestone, Can Expect 30K By Year-End
Surpasses Mac App Store by numbers; features mostly free apps.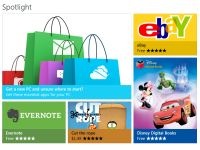 Windows Store has now over 20,000 apps according to WinAppUpdate, an independent analysis agency. It opened on 29th February of this year, and features free as well as paid apps — with prices ranging from $1.50 to $1000. What's interesting is that 87% of the apps are free — 17,958 of the 20,610 apps available as of today.
Windows Store is not to be confused with Windows Phone Store. The former features apps and games for Microsoft's latest Windows 8 and Windows RT OSes for desktop and tablet PCs; Windows Phone Store hosts applications for Window Phone mobile devices.
On the other hand, Mac App Store — the Mac counterpart of Windows Store — started with around a thousand apps in January 2011, and right now features 12,641 apps. In terms of number of apps, Windows Store has far surpassed its Mac counterpart despite the latter being around twice as long. Part of the reason is legacy apps. Windows Store was opened specifically for Windows 8 and Windows RT, which are touchscreen-oriented OSes — but they can also run apps made for earlier Windows versions. Windows Store has a number of legacy applications, which help increase the numbers.
An average of 400 apps are added every day, so we can expect Windows Store to cross the 30,000 mark by the end of this year. Microsoft has been projected to sell over a million Windows 8 devices by December end, so this exponential surge in app numbers is expected. We're only hoping that the company doesn't lose focus on quality over quantity.