President Launches Android 4.0 Aakash 2 With 7" Screen At Rs 1130
Let's hope the low-cost tablet reaches students with no delaying tactics this time around!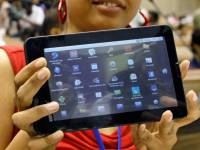 The Aakash 2 student-friendly tablet was finally launched yesterday by the first citizen of the country, President Pranab Mukherjee, and with him, Union HRD Minister MM Pallam Raju, on the occasion of National Education Day. The Union Minister of Communications and IT, Kapil Sibal, had announced a month ago that a new version of the beleaguered low-cost tablet would be launched this month. Datawind, the manufacturer, will supply 100,000 units of the Android 4.0 tablet with a 7" capacitive touchscreen to IIT Bombay in the first phase. These will be made available to engineering and other college students, with the goal of benefiting 220 million students in the coming years.
In terms of performance, the new variant is a leap ahead of the original. The CPU is 1 GHz, as opposed to the earlier, wimpy 366 MHz. However, the 512 MB of RAM is still a bottleneck on the ICS platform. It hasn't been stated whether Google Play is supported, so we don't yet know whether students can install apps and games from the online store without restrictions. Here are the full specifications of the Aakash 2:
Android 4.0 (Ice Cream Sandwich).
ARM Cortex A8 1 GHz with 512 MB of DDR3 RAM.
4 GB internal storage, 32 GB microSD support.
7", 4-point capacitive multi-touch display with pixel dimensions of 800x480.
0.3 megapixel front camera.
Wi-Fi 802.11 b/g/n
Mini-USB port with OTG, 3.5 mm audio jack, G-sensor.
3200 mA Li-ion battery with up to 3 hours of backup.
Package Contents: Wall charger, USB adapter, USB cable, 4-port USB hub.
While Datawind will charge the HRD Ministry Rs 2263 per tablet, students will get a much-subsidised pricing of Rs 1130. In case you are wondering, the Aakash 2 is the same tablet that is commercially available as the UbiSlate 7Ci, launched in September this year and priced at Rs 3500.
The original Aakash was launched in October last year. It has been mired in controversy due to delayed shipments, with pre-order payments having been made months in advance. We really hope the subsidised tablet, which was meant for students, will reach its intended users this time around. Do you think it will? Sound off below!
TAGS: Tablets, Government, Education, Android, Aakash, Jayesh