Aakash With Android 4.0 Will Be Presented At UN
But how soon will it reach the common man and his kids ?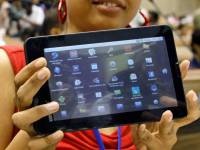 That India is a land of marvelous tales and myths is known. The Aakash tablet seemed to be an effort to further establish that fact. We kept hearing of it, but never really got around to see one live. The low-cost slate which promised to bring high-class technological advancements at throw-away costs, has been an elusive beast to say the least. At last count a few months back, the first iteration of Datawind's Aakash tablet reached a mere 366 students, as opposed to 1 lakh as it was tendered to deliver. While we heard nothing about it (neither did several users who preordered the slate) thereafter, talks about the second helping of the device soon started to surface. But now, the myth may turn to reality. After a lot of speculations, the device is finally slated for a 11th November launch, which I really hope happens — given its specs and cost, the tab is arguably the "most competitively priced" tablet computer in the world.
And to prove that it's true to its cause, the device is all set to make a grand debut at the UN, on the 28th November as Datawind CEO Suneet Singh Tuli will put up a presentation on the wonder-gadget at the UN Headquarters with the Secretary General Ban Ki-moon in attendance.
The tablet is being described as "the most competitively priced tablet computer by an Indian-origin entrepreneur", by India's Permanent Representative to the UN Hardeep Singh Puri: He further states it as being a "frugal innovation" (which he explains is UN's way of calling it a "competitively priced innovation").
The "Indian mission" as it is called, will not only showcase the tablet but also distribute some of the devices to some member states. Considering that this is the government's plan of action, I am guessing that the tablet will indeed see light of day on its promised date. While confirmed specs of the tablet are not known, the 7" capacitive touchscreen tab is said to be powered by a 1 GHz CPU, and runs Android 4.0 (Ice Cream Sandwich), and features a SIM slot for connectivity on the go. Boasting of four hours of battery life, it will ship with an Rs 1500 price tag.
The tablet has already been used to score political brownie points. Let's hope that if the Aakash does come true at the said price, dearth of connectivity and electricity don't become bottleneck in its adoption.
TAGS: Tablets, Education, Government, Android, Aakash, Kamakshi