Download: Win8 StartButton
Brings the classic start button to Windows 8 — with a full Start Menu and other customisable features.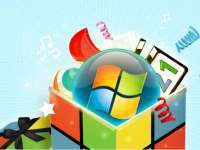 For everyone who is wary of switching to Windows 8 because it seems too unfamiliar, the missing start button is part of the problem. Worry not — Win8 StartButton comes to your rescue, adding the classic two-panel Start menu to the lower left of the Windows 8 screen. You get access to folders such as Documents and Music, plus the Search, Run, Help, and Shut Down items.
The application allows visual customisation; you can make the menu appear in Windows, Windows XP, or Windows 7 flavours. Plus, you can program the Winkey button, enable or disable Windows 8's hot corners, modify menu commands, and change the menu skin.
Developer: Torch Media Inc
Size: 827 KB (web installer)
Platform: Windows 8 (PC)
Price: Free
Download: http://windows8startbutton.com