Microsoft Offers Free Office 2013 Upgrade With Purchase Of Office 2010
Pre-launch campaign will last till 30th April 2013; only new buys eligible for free upgrade.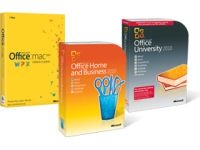 Microsoft's attempt at enticing users into buying a legal version of Office comes in the form of a free upgrade. October 19th, Microsoft began a pre-launch campaign for its upcoming Office 2013 suite, slated to be launched next year. It's a reasonably attractive offer: Buy and activate Office 2010 now, and get a free upgrade to Office 2013 when it is released. The offer will be on till the 30th of April. After Office 2013 is released, you have up to 31st May to redeem the offer, that is, download the free upgrade. Existing Office 2010 users won't be able to avail this offer.
The offer is available in all countries where the Office suite is available; it is not applicable for volume licensing agreement products. To avail the offer, you buy and activate a qualifying Office product, at the above URL, during the eligibility period. Then you sign up at Office.com/offer, and Microsoft will send you a reminder when Office 2013 is launched. For a taste of the upcoming software, head over to the Office 2013 Preview download page.