SanDisk Announces Diwali Dhamaka Contest With 35 Digicams Up For Grabs
350 USB flash drives will also be given away over the 5-week campaign.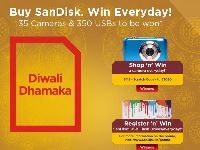 SanDisk Corporation is riding the festive fervour. The company recently announced its Diwali Dhamaka contest, where 385 prizes will be given away. The 5-week campaign, which was kicked off on 15th October, will lead up to Diwali week — ending on 18th November.
Contestants get the chance to win 35 digital cameras, one every day, with the purchase of any SanDisk product. There is a code under the scratch-off area of the promotional sticker on the product packaging; contestants need to send this code by SMS to 53030. If you don't want to buy anything, you can still win one of 350 flash drives by registering online. SanDisk will give away 10 of these every day; more information is at http://www.sandisk.in/promo. The contest has already started — hurry!