Samsung Will Announce GALAXY S III "mini" Tomorrow; Likely To Have A 4" Screen
Lower-cost version of flagship device will feature less stellar specs; exact details and pricing not yet known.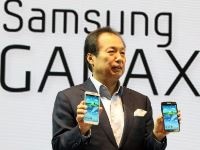 Samsung is going to launch a mini version of the GALAXY S III tomorrow. The Korean electronics giant has sent out invitations to the media for an 11th October unveiling event in Germany stating that it is about "something small that will be big". The shrunk down iteration will reportedly sport a 4" screen as against the 4.8" found in the company's flagship product and its specifications are also said to be scaled down to price it lower.
The company's mobile business head JK Shin confirmed the news although he was not forthcoming with any specifics of the same. Shin said, "we'll be launching a 4-inch Galaxy S III on the 11th in Germany," Shin said. "There's a lot of demand for a 4-inch screen device in Europe. Some call it an entry-level device, but we call it 'mini'". [Hardly original, but moving on...] He also mentioned that it will have a "full form factor", which would probably mean that the proportions of the larger device will be maintained. Shin's quote makes it seem like this is probably targeting European markets, laying doubts about a global launch. Also, it is interesting to note that he emphasised the word "mini", as we know that the iPad mini is likely to be launched just six days after this unveiling.
What do you think of these mini versions? Let us know in the comments section below.
TAGS: Mobile Phones, Android, Samsung, GALAXY, Jayesh