Apple Releases iPhone 5 Launch Keynote Video
Missed out on the action? Watch CEO Tim Cook presenting the new range of iDevices.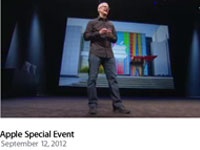 As you're aware, Apple yesterday finally took the wraps off its flagship handset, the iPhone 5. The event expectedly created a huge buzz, but many were disappointed as it lacked the panache associated with Steve Jobs. Flagging off in typical Apple style though, CEO Tim Cook took centre stage to talk about the year that had gone by for the company. He went on to Apple Retail, describing a new store set to open on Friday in Sweden — the 13th country with an Apple store. After a bit about how the MacBook Air and Mountain Lion had fared since launch, Tim ended his stage time with details about the new iPad.
That act was followed by Phil Schiller (Senior Vice President, Worldwide Marketing) pulling the rabbit out of the hat: the iPhone 5. Until now, Apple events announced the "secondary" products before the flagship devices. But since Jobs isn't around any more, under Cook's reign, Apple seems to have taken the run-of-the-mill route. The official video has finally been released, so check it out here. If you like the Foo Fighters, make sure you watch the complete video to catch their special performance!
TAGS: Mobile Phones, Media Players, Events, Apple, iPhone, iPod, Kamakshi