Nokia World 2012: Nokia Apologises For Fake Demo
"This was not shot with a Lumia 920".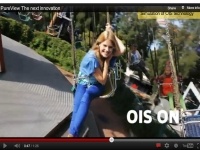 There's an ad on YouTube for the Lumia 920, which highlights the difference its Optical Image Stabilisation system (OIS) makes. As you can see, the ad shows a moderately pretty girl riding a bicycle, in a theme park, etc, with the screen sometimes split into OIS on and OIS off. At the end, the screen goes This is Lumia. Which means the shoot uses a Lumia, and shows what it looks like when OIS is on. Right? That qualifies it as a demo... But it's not. TheVerge.com soon reported that the shoot had been faked.
Most ads since 1990 or so have been indicative — Indian car ads come to mind, where the roads are smooth, traffic-free, and not in India. Nokia apparently had believed that it's OK to use a simulation as a demo. It later apologised in a blog post, admitting that they should have posted a disclaimer, and that "this was not shot with a Lumia 920. At least, not yet".
The "not yet" implies, "Watch the fake ad and believe it, especially because we've apologised". You've got to give credit to Nokia's blog writers for coming up with that marketing gem!
TAGS: Mobile Phones, Events, Windows Phone, Nokia, Lumia, RMR