IFA 2012: HP Unveils Windows 8 Based ENVY x2 Hybrid Laptop, Adds Touchscreen To Ultrabooks
The ENVY x2 is a 11.6" laptop-tablet hybrid, while the Spectre XT and ENVY ultrabooks have been updated with touchscreens and Windows 8.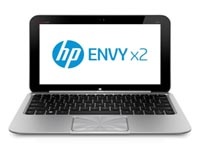 As the Windows 8 launch gets closer, manufacturers are gearing up for switching over to the new OS and taking advantage of its touch-enabled features. This year's IFA has thus far seen the unveiling of Dell's XPS Duo 12 laptop-tablet hybrid, Sony's VAIO Duo 11, and Samsung's laptop contender. So how could HP be far behind? As expected, the IT giant has announced its range of touch-based Windows 8 computing devices, but remained stingy when it came to giving out details about the hardware and price. While no product page is available, HP has put up an announcement slider here.
These notebooks will be HP's first offerings based on Microsoft's new OS. First up we have the ENVY x2, the flagship offering in the laptop-cum-tablet segment. The highlight of this product is its detachable screen that docks with the keyboard through a magnetic latch, thus allowing you to easily convert between the two form factors, somewhat similar to Apple's Smart Cover. While details are scarce, here are the confirmed specifications:
11.6" touch display with 1366x768 pixels (135 ppi), 400 nit IPS panel.
8 mp rear camera, HD (720p) front camera.
Beats Audio integration.
NFC, optional stylus.
SSD storage.
1.4 kg total weight, 700 grammes in tablet mode (without keyboard dock).
The HP ENVY x2 is expected to arrive by mid-December in the US at an unknown price. You can take a closer look in the video below:


Along with the HP Envy x2, Windows 8 versions of two existing ultrabook series were also confirmed. First, let's have a look at the Spectre XT TouchSmart Ultrabook, a new entrant in the Spectre series. Its known specifications are as follows:
15.6" multi-touch Full HD (1080p) IPS panel display with edge-to-edge glass.
Only 0.7" (18 mm) thick, and weighing 2.2 kg.
Intel Core CPU (exact model unknown)
mSATA solid-state drive, supports Intel Thunderbolt technology for faster data exchange with external devices.
Glass touchpad, Beats Audio with tilted speakers.
Gigabit ethernet, USB 3.0, HDMI-Out, and other standard ports.
Includes full versions of Adobe Photoshop Elements 10, Premiere Elements 10, and a two-year subscription to Norton Internet Security.
The HP Spectre XT TouchSmart Ultrabook is expected to be available in the US in early December, with a starting price of $1,400 (Rs 80,000 approx). You can have a look at the introductory video here:

Finally, the ENVY TouchSmart Ultrabook 4 is an updated offering in the ENVY series of laptops. This one has the following confirmed specs, which isn't saying much:
Intel processor based (model unknown).
14" multi-touch HD (720p) display.
0.9" (23 mm) thin, 2.2 kg.
Backlit keyboard.
8 hours of claimed battery backup.
Beats Audio.
Optional AMD graphics card with 2 GB of RAM.
Optional SSD, Thunderbolt supported.
It is scheduled to be available in America by mid-December, while the price is currently unknown. Product video below.