Rumour: Images Of New Kindle Fire Spotted On The Web
Could feature a refined UI, video calling capability, and Nokia-powered maps.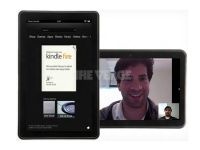 The Kindle Fire has become a success in the US due to its affordable price, with Amazon.com declaring that it has sold out all stocks of the product (but units can still be found with other retailers). While the online retailer hasn't revealed any details about the slate's next iteration, TheVerge.com has received what it claims to be leaked images of the product. Technology blogs are rife with speculation that Amazon is working on a 10" version as well as a 7" successor to the Kindle Fire.

Going by the images, the upcoming tablet looks very similar to the original Fire. If the picture is authentic, complaints regarding the earlier gadget's lack of a front-facing camera appear to have been addressed. Since a photo of the tablet's back isn't available, it's not known whether a rear camera has been included, although that could be a distinct possibility. Additionally, another unpublished image supposedly shows a "refined UI", but it's unclear whether it will actually be shipped with the device.

In a related development, Reuters has revealed that Amazon could team up with Nokia to bring maps and location services on the next Kindle Fire. This sounds rather strange, since Amazon's tablet runs the Android OS and could easily have used Google Maps instead. However, it's possible that Amazon wants to offer an offline navigation app to compete with Google's Nexus 7 tablet. Thankfully, you won't have to wait too long for answers, as Amazon is expected to announce the new Kindle next week.