IFA 2012: Samsung's Upcoming Windows 8 Tablets And Phones Will Be Given ATIV Brand Name
New trademark seeks to differentiate Windows devices from the Android-based GALAXY series; formal announcement expected at IFA 2012.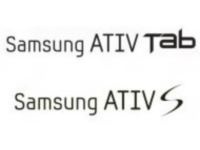 Samsung has registered a new trademark called ATIV for at least two devices, the ATIV Tab and ATIV S. While an official tweet has made it known that the former pertains to tablets running Windows 8, the latter name is probably meant for smartphones running Windows Phone 8. It appears that the name is a combination of the words "active" and "8" (from Windows 8). If so, Samsung could certainly have done better.

The ATIV Tab trademark has a stylised "Tab" font that appears similar to that of the GALAXY Tab, while the stylised "S" in ATIV S is a feature found in the names of Samsung's high-end phones. While its Android-based tablets and phones are grouped under the GALAXY brand, it has thus far been using the OMNIA designation for its Windows Phone devices. This new move will bring all Windows-powered tablets and smartphones under a common ATIV brand.

Recently, the Korean electronics giant suffered a major legal defeat at the hands of arch nemesis Apple, which will negatively impact the future of its Android devices under the GALAXY brand. In light of these events, it's expected to place more importance on its future devices based on the upcoming Microsoft OS. A formal announcement of the new series will probably be made at the IFA 2012 event in Berlin, where the company is expected to show off its latest flagship gadgets, including a Windows 8 laptop-tablet hybrid and the 5.5" phone-cum-tablet GALAXY Note II.
While the GALAXY name has definitely become a hit, we will have to wait and see to if ATIV can garner the same fanbase. Do you like the new series name? If not, what would have been a better moniker? Let us know in the comments section.
TAGS: Mobile Phones, Tablets, Events, Windows Phone, Windows, IFA, Samsung, ATIV, Jayesh