Apple Sued Over FaceTime Patent Infringement In China
Taiwanese man claims to have filed patent on a "voice network personal digital assistant" technology in 2003, seeks unspecified damages.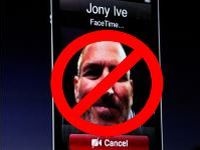 Apple is no stranger to lawsuits, having fought numerous court battles over patent violations both for and against it. It has just been slapped with a new court case over FaceTime, a video chat app extensively used on iDevices. A Taiwanese man has filed a suit in the Zhenjiang Intermediate People's Court of China, alleging that he owns the patent on the "voice network personal digital assistant" technology that is used in FaceTime. The court has accepted the petition and contacted Apple, but it has yet to respond as of this writing. The man, identified only as Lee from Taipei, claimed to have come up with the idea for an internet-calling feature while working for a tech company, and applied for the patent in 2003. While it was earlier owned by the company where he was employed then, the patent was later supposedly transferred to Lee's name.
The complainant's attorney has stated, "Lee is a technician of a Taiwanese tech company, he needed to travel aboard to various cities for work, therefore he always made international call [sic] to his company, parents and friends. Due to this reason, Lee was inspired and came up with an idea of implementing internet call feature on phones. Subsequently, he applied a patent for this idea in 2003". Lee has not disclosed the amount he is seeking in damages, merely stating that he wants the iPhone maker to cease and desist from the patent violation.

This new legal action poses an additional thorn in Apple's side, at a time when it is embroiled in a major patent battle against Samsung. While the legitimacy of this latest lawsuit will be determined soon, it's most likely an attempt by the plaintiff to score some quick cash by way of a settlement.