Video Chat Live With Narendra Modi Via Google+ Hangout On 31st August!
Netizens invited to post questions by 27th Aug; select few will join tech-savvy Gujarat CM in video chat, while the rest can watch the discussion on his official YouTube channel.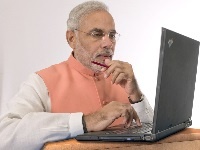 Gujarat Chief Minister Narendra Modi has announced that he will appear live on Google+ Hangout to have a video chat with the common man — a first for any Indian politician. The controversial leader plans to speak face-to-face with the people of the country on 31st August, and the entire chat will also be broadcast live on his official YouTube channel. While the suggested topic of the discussion is "Strong & Glorious India long cherished by Swami Vivekananda" (yes, really), most of the questions posed till now seem to be on the topics of corruption, development, and the economy.

Those who are interested in participating can post their questions here before midnight on 27th August. Since Hangout allows a maximum of 10 users at a time, only select people will be shortlisted based on their questions and invited to join the CM online. Others will have to be content with the YouTube broadcast. The event has been organised by the Swami Vivekananda Cell, Sports, Youth & Cultural Activities Department of the Gujarat government, with the exact time being specified later.

Modi is known to be active on Facebook as well as microblogging website Twitter, with a huge following in each. Recently, international politicians such as US President Barack Obama and Australian PM Julia Gillard had performed similar interactions, which received a favourable response from netizens. It will be interesting to see if the trend set by the tech-savvy Gujarat CM will be followed by other Indian politicians, although it seems rather unlikely. You can view the official announcement video below.

Knowing how our politicians are, do you think this will actually be an unscripted, honest, face-to-face talk with netizens, or is it just a publicity stunt to project himself as a leader who keeps up with the times? Let us know in the comments.

TAGS: Internet, Government, Google, Google+, YouTube, Jayesh