Apple Drops YouTube From iOS 6 As War Between Rivals Heats Up
Previously inbuilt app disappears from just-released beta version, but will be available separately in iTunes App Store soon.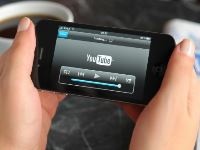 Apple has announced that its upcoming iOS 6 will not have the in-built YouTube app, as its licencing agreement for the same has ended. Apparently, it is not a part of the Beta 4 version of the mobile OS released earlier today, as reported on AppleInsider.com. Do not fret though, as the iPhone maker has stated that a standalone app will soon be available, although Google (which owns YouTube) has not confirmed this as yet. The app is used by iOS users to watch YouTube videos, since Adobe's Flash — not supported by Apple's operating system — is required to view them in web browsers. This workaround was possible because Google converted its entire library of Flash videos into the H.264 format so that they could be viewed in iDevices. Due to this reason, the YouTube app was included with iOS right since the earliest version.

However, much has changed changed since those early days. After initially supporting H.264 wholeheartedly, Google began criticizing it for its lack of openness and royalty-free use. As an alternative, it brought out its own WebM video codec as an open and licencing-free alternative. Sadly, due to its technical limitations, including a lack of support for mobile hardware acceleration, it never really caught the web's fancy. In the meantime, Apple has successfully pursued the strategy of using HTML5 and H.264 as replacements for Flash video content. On the other hand, after constantly struggling to optimize its highly inefficient technology, Adobe has finally begun to give up on Flash, cancelling future development plans for mobile devices. On the whole, it seems that Apple has clearly emerged the winner of this battle.
Earlier, Apple had also announced that it would replace Google Maps with its own 3D mapping service, and has now followed this up by removing another Google product from its system. Of course, a major reason for these decisions is undoubtedly Google's Android OS — the arch-nemesis of iOS — and the ever-increasing competition from the army of droids. Moreover, in the US market, the two have also been competitors in the media player segment, ever since Google TV attempted to take on Apple TV. Going by the recent "indefinite postponement" of Google's spanking new Nexus Q media player though, it looks like Apple comfortably has the upper hand in this area as well. With all that's going on, it's little wonder then that the Cupertino-based iPhone manufacturer is doing whatever it can to ward off its deadliest competitor.

While it's almost certain that Google will release a separate YouTube app in the iTunes App Store much before iOS 6 releases, there are currently several other apps that can mimic the functionality of YouTube. Moreover, the video service can still be accessed via its HTML5 and touch-optimised mobile site, as far as iDevices are concerned. Thus, the end user will not be inconvenienced much by this whole affair. One thing can be said for sure though — the battle for the top spot in the mobile OS market is only bound to get more intense in days to come. Will Android ever be able to break Apple's dominance of the smartphone and tablet markets? Let us know what you think.