BASIK MOBILE To Launch Ultra Mini Music Phone
Kid-centric music phone claims to be the smallest in the world.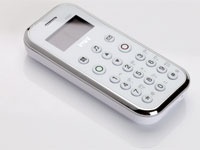 Soon you won't have to worry about your kids breaking open your mobile phone. Korean mobile manufacturer BASIK MOBILE plans to launch the world's smallest music phone named imini in October and November this year. The company plans to market the device targeting the young and kids. With a growing number of kids showing an interest in using mobile phones, the timing of this launch seems to be adequate.

The dual band GSM imini is said to be easy and simple to use. While the screen size appears to be tiny, it has buttons including a numeric keypad, call receiving and ending, SMS, and of course, music, which includes a button to switch on the music player and another to go up and down the playlist. It comes in a very small size of just 7.8 x 3.6 x 1.4 cm and weighs only 40 grams, which includes a 400 mAh battery. It comes with a 1 GB microSD card and stereo headset for listening to music and also making and receiving calls. In addition to MP3 playback, some of the additional features include FM radio, alarm clock, and vibration alert.


The mobile phones are available in basic plain white flavour and with Character designs, although the characters Momot and Bomai will probably be known only to kids in that part of the world. The company plans to launch the mobile phones in India as well, with the basic phone costing $69 (Rs 3400) and the Character design imini costing $79 (Rs 3900).

Will you buy the imini for your kid?

Check out the video to know more about the imini:

TAGS: Mobile Phones, Jayesh
Opinion Poll
How much would you spend to buy a new smartphone?
Below INR 5,000
17%
INR 5,000 - INR 10,000
35%
INR 10,000 - INR 20,000
34%
INR 20,000 - INR 30,000
7%
Above INR 30,000
8%
Total votes: 1105