Download: TrueCaller (Android, BlackBerry, iOS, Symbian, Windows Phone)
Helps you trace the jerk who makes prank calls to you at midnight.
When annoyed by unknown callers, most people end up changing their mobile number. Before you take this step though, consider using TrueCaller, a godsent app that allows you hit back at these buggers by revealing their identity. All this without involving the cops and their chai-paani. According to the Swedish developer, the app's database is powered by crowd-sourcing. In addition to its caller ID functionality that runs in the background, the app allows you to manually enter a phone number, find the subscriber's name, and block that person if you wish. Here's a full list of features supported by TrueCaller:
Caller ID.
Facebook, LinkedIn, and Twitter integration.
SMS pop-up preview.
Block spam calls.
Update phonebook with missing address information.
The app works well with EDGE connectivity on most phones. However, for faster search results, a Wi-Fi or 3G connection is recommended. Best of all, the application is free, and can be downloaded by visiting m.truecaller.com from your phone's browser. Check out the gallery below for more screenshots.


Developer: True Software Scandinavia AB
Size: 0.3 MB - 2.2 MB
Price: Free
Platform: Android, Blackberry, iOS, Symbian, Windows Phone.
Download: Android - play.google.com/store/apps/details?id=com.truecaller
BlackBerry - appworld.blackberry.com/webstore/content/91608/?lang=EN
iOS - itunes.apple.com/in/app/truecaller-worldwide-number/id448142450
Symbian - store.ovi.com/content/291595
Windows Phone - www.windowsphone.com/en-in/apps/e03005a1-47c7-43d2-8ee3-57313f5ece90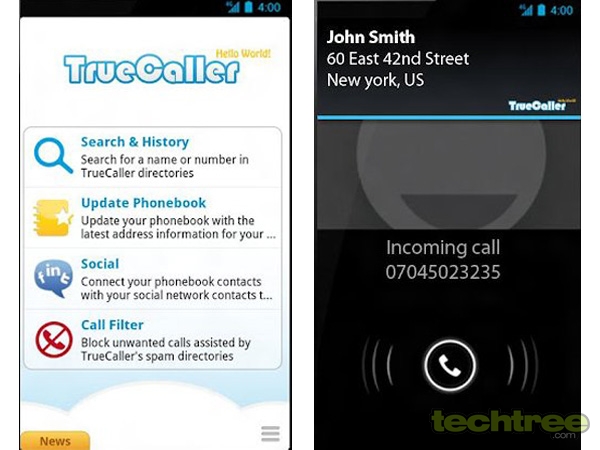 TAGS: Apps, Downloads, Internet, Security, Telecom, Android, BlackBerry, iOS, Symbian, Windows Phone, ck