Court Documents Reveal Samsung's Plan To Make 11.8" Tablet
Evidence from Apple vs Samsung trial in the US reveals hitherto unknown "P10" prototype featuring a high-resolution screen comparable to the Retina Display of the new iPad.
While the Apple vs Samsung trial about who came first — the chicken or the egg — has opened in California, court documents have revealed a large Samsung tablet with a very large screen and high pixel density. The P10, as it is known in the plan, has an 11.8" screen with pixel dimensions of 1600x2560, giving it a pixel density of 256 ppi — comparable to the 264 ppi Retina Display of the new iPad. Given the fact that the Korean giant has its own display manufacturing facilities, it comes as no surprise that it's trying to cram in more pixels to compete against its arch rival. The tablet is also said to have LTE (4G) connectivity, although this will only be usable in markets such as the US.
Interestingly, rumours about a high-resolution slate by Samsung that's larger than the GALAXY Tab 10.1 have been circulating from earlier this year. In my opinion, a screen size of 11.8" is too large for a tablet, and is even larger than most netbooks and a few ultrabooks. It could, however, be possible that Samsung intended to launch the device in synch with the release of the new Windows 8 OS to show off the Metro UI in all its high-resolution glory. It remains to be seen though if Samsung actually goes ahead with its plan, especially after this leak and the ongoing court battle, which will probably drag on for months.

What is your opinion on the suitability of a large-screen tablet? Is 11.8" a desirable size, or will it be just too inconvenient? Let us know in the comments.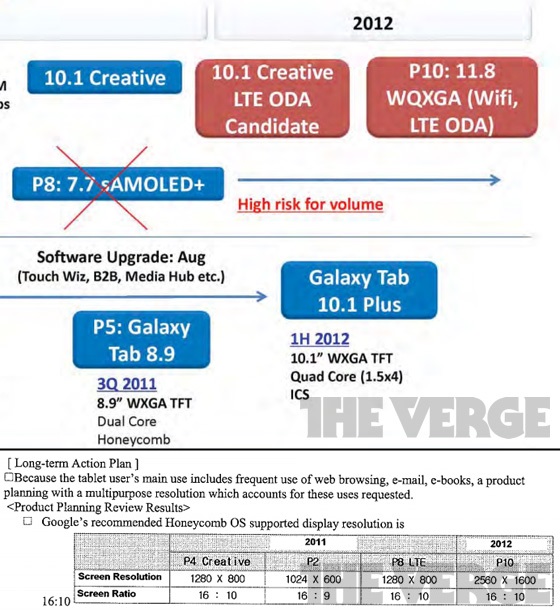 Two of the slides from the Apple vs Samsung court case, showing device plans belonging to the Korean electronics giant.