Microsoft Announces Office 2013 Suite For Windows 8
Home and Student 2013 RT editions will come bundled with Windows RT tablets; pricing details yet to be revealed.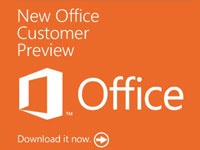 Microsoft has announced Office 2013 for Windows 8. The new software suite has been designed to work with touch-based devices, styluses, as well as keyboards with ease, and will support social networking as well. Windows RT tablet users will get access to the Office Home and Student 2013 RT editions that offer the Word, Excel, PowerPoint, and OneNote applications. The suite will work with ARM-based Windows 8 devices, which includes Microsoft Surface. The touch-friendly nature of the new applications is best seen in the Read Mode feature in Word, which automatically adjusts the text size and layout based on the screen size, as well as allowing you to watch videos embedded in documents, while turning through the pages like you would with a book.


However, the most significant feature in Office 2013 it its cloud-based nature, transitioning from being just a software to a service. Since all documents are saved to SkyDrive by default, you can access them across gadgets. The same goes for your software settings, custom dictionaries, and so on — they too are carried over to all the gadgets you use. You can even access your documents from a PC that you don't normally use (such as in a cybercafé), since both the software and the data are stored online. Of course, this implies that you will have to be connected to the internet at all times, which is not the case with many Indian tech users.
The new application comes with a service called Yammer, which lets you share files and network with your business contacts in a secure way. Other social aspects of the software are manifested in how your contacts are displayed through a new feature called the People Card, which is a central location for displaying profile pictures, contact information, status updates, and activity feeds for your contacts, directly streamed in through their Facebook or LinkedIn accounts. Finally, the software features full integration with Skype, going so far as to provide 60 minutes of Skype time every month for premium users.


The complete list of Office suite applications and their pricing details has not been announced yet. However, the cost will be a monthly \ annual subscription fee rather than a one-time payment, considering Microsoft's shift to the "service" model. While the Office Home and Student editions mentioned above will be either free or require a single payment, its subscription-based editions are as follows:
Office 365 Home Premium - A package for home users, it comes with 20 GB SkyDrive storage and 60 minutes of Skype minutes per month.
Office 365 Small Business Premium - Created for small businesses, it features business-grade email, shared calendars, website tools and HD web conferencing.
Office 365 ProPlus: Made for enterprise users who require advanced business features, this version seems like it will be entirely cloud-based.
For now, you can test drive the consumer preview version here. The most controversial point, at least for countries where internet penetration and access speeds are low, is the software's cloud-based nature. How many of you will consider upgrading to this version? Do you consider having all your settings and data on the cloud as a positive step, or an annoyance?