MTS Launches New 3.1 Mbps Data Plans, Increases Usage Limits On Some Older Schemes
Attempts to make tariffs for its MBlaze internet dongles "affordable with increased usage benefits", but remains mum about its sub-optimal speeds.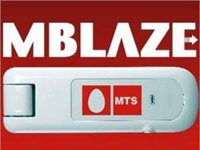 Telecom operator MTS India has launched a new range of data plans for its MBlaze-branded USB internet dongles that offer better value for money. However, these plans are only available to its subscribers in the Maharashtra (including Bombay) and Goa circles. The new schemes fall across a range of values, starting from Rs 96 to Rs 1500. Customers recharging for the 90-day Mblaze 998 at Rs 1000 will now get 6 GB as against 3 GB, while a new plan called Mblaze 1499 offers 15 GB for Rs 1500 with the same validity period. Charges for data downloaded after the limit is exhausted work out to Rs 1 per MB. MTS claims the "theoretical" speeds are 3.1 Mbps for downloads and 1.8 Mbps for uploads. However, as the screenshots of the speed tests performed by us show, the real-world results with the MBlaze dongle are far from satisfactory.


While the plans do offer some of the most competitive rates available today, what use are they if you're unable to consistently obtain even the minimum speed considered as "broadband" by Indian standards (that's 512 kbps)? Even 750 kbps is barely enough to watch videos at the 360p quality in YouTube, forcing you to step down to the lowest 240p option. What has your experience been about the connectivity of MTS MBlaze?