Beyerdynamic Launches DT 240 Professional Monitor Headphones In India
The headphones comes with a price tag of Rs 7,500 making it an affordable option for producers with tight budgets.
Music is not only created in a studio. Videos are now often cut on a notebook, and podcasters report via smartphone from anywhere in the world. The DT 240 PRO monitor headphones from Beyerdynamic fit perfectly into this mobile workflow.
Creative minds can work anywhere with these headphones – start a project in one place and continue working on it somewhere else. At the mixing desk, behind the camera or on the train, the DT 240 PRO ensures seamless audio control without compromising on quality. Having said this, the headphone comes with an attractive price tag of Rs 7,500 making it pretty affordable for producers with a smaller budget.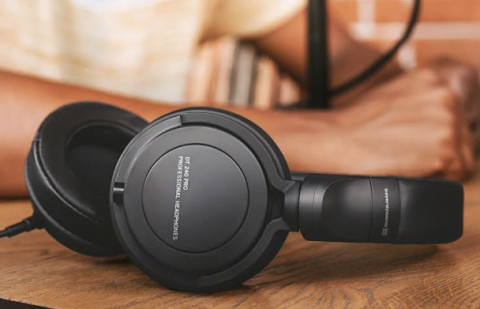 Technically speaking, the headphone comes with a dynamic transducer, while it features a frequency response of 5 - 35,000 Hz and impedance of 34 Ohms. Thanks to this low-Ohm acoustic transducer, the DT 240 PRO requires little amplifier power. It works just the same on studio mixers as on the laptop or smartphone, delivering ample output levels in all cases, which means there's no need to switch headphones during production. This has a positive impact on the sound, since the same monitor that is used at the workplace or with the customer can also be used as a reference when on the move.
Specially shaped ear cups make the DT 240 PRO very easy to handle. The company, further claims that the mixture of on-ear and over-ear design as "compact over ear", where both ears are firmly enclosed, but the monitor can still be transported in a notebook or camera bag. Robust materials backed by professional technology, a detachable coiled cable and replaceable ear pads make for an extended life of the headphones – effortlessly, even over years of continuous use.
TAGS: Headphones