This Device Enables Payments For Merchants Via Sound
Tap the audio pod with your smartphone and complete a transaction.
From the invention of wheels and flint stone tools to Nano-technology and artificial intelligence, man has always produced technologies and machines that make his life easier. In today's world, technology is everywhere! Everything we do involves technology. It is completely integrated into our lives and the two have become inseparable. Even the way we make payments has evolved significantly. Today, we have different types of payment technologies available, including cards, mobile payment options such as NFC, QR codes, RFID chips, e-wallets, applications and many more.
But what about a device that can be placed anywhere and can enable payments via sound without any dependency on Wi-fi or internet? Sounds intriguing, right? Well, ToneTag has come up with an AudioPod which is capable of doing just the same.
ToneTag has today announced the launch of 'Audio Pod' which is said to redefine payments for merchants across the country. Well, as the name itself suggests, the device is simply a Pod and works by just tapping a phone on it to complete a transaction.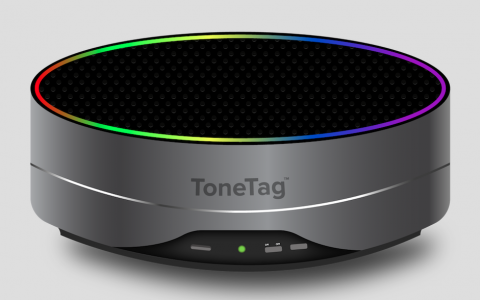 According to a company's recent press release, "On tapping the phone on the ToneTag Audio Pod, the pod emits a sound wave carrying data that is received by the mobile phone. On confirmation of the same, the payment is complete." Hence, the name 'AudioPod'.
"ToneTag Audio Pod is a device that can be used by any merchant irrespective of their scale of operations or nature of the business. This device can be that trigger which enables mass acceptance of digital mode of payments amongst merchants. In our push towards a digital economy, a device like the ToneTag Audio Pod can bring in both the merchant and the consumer segment to accelerate the digital drive," said Kumar Abhishek, Co-Founder and CEO, ToneTag.
ToneTag Audio Pod is a one stop solution for everything in payments.
Enables quick and faster checkout at stores, with transactions being completed under 3 seconds and thereby acting as a queue buster
Any issuer, merchant or acquirer can use the ToneTag Audio Pod to receive payments
Payment acceptance from any e-wallet or banking application
Payment experience is better when compared to prevalent methods
No congestion and rush at stores, giving merchants and customers a pleasant retail experience
Works in offline conditions. No data connection required
Robust build quality, combined with state of the art design features
Space efficient and user-friendly
TAGS: AudioPod, ToneTag, mobile payments