ConveGenius Launches CG Slate Plus In Association With Samsung
The CG Slate Plus is exclusively available on Flipkart for Rs 15,999.
Indian educational technology company ConveGenius has recently announced the launch of its new product, the CG Slate Plus, which is claimed as a more evolved and enhanced version of its original CG Slate. For this CG Slate Plus, the company has announced that it is tied up with Samsung, thereby bringing the educational solution inside a Samsung Tablet, and is priced at Rs 15,999. The CG Slate Plus will be available exclusively on Flipkart.
Speaking about the tablet, as we told earlier, it is manufactured by Samsung and comes with the model names CG Slate Plus T116. It features a 7 inch display screen while being powered by 1.3 GHz quad-core processor coupled with 1 GB RAM and 8 GB ROM. The storage can be expanded upto 32 GB via microSD card. It also features a 3,600 mAh battery, and comes with 5 MP rear camera. However, there seems to be no front facing camera.
While the specifications are definitely not that exciting, the company may be in the belief that this might be enough for the actual edutainment solution purposes this tablet is made for. However, Android 4.4 KitKat as its operating system is very much disappointing.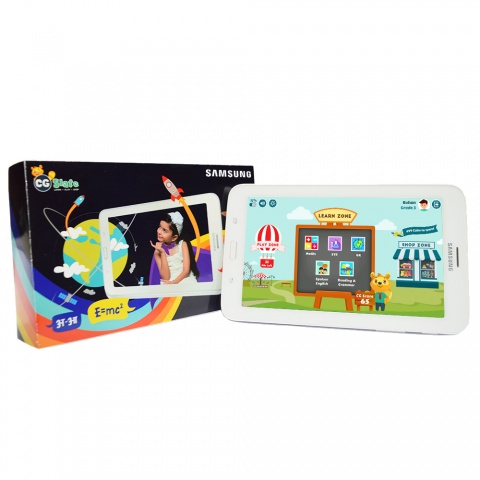 At the announcement, Jairaj Bhattacharya, MD, ConveGenius Group, said, "It gives me immense pleasure to say that Titu, our intelligent mascot featured in CG Slate, has been accepted as the best mentor kids can ever have. While keeping regular school curriculum in perspective, CG Slate has greatly amplified the learning curve of children. To offer a more evolved and enhanced version of the device, we are going to roll out the new and improved CG Slate on Samsung Tablets. The technological features of our offering combined with reliability of Samsung hardware will ensure a high-value product for our customers."
Sukesh Jain, Vice President, Enterprise Business, Samsung India said "We are pleased to offer Samsung Galaxy 3V Tab to ConveGenius to host its eLearning solution. Galaxy 3V tablet is designed for ultra-portability. Slimmer at only 9.7mm, its concise form factor is sure to please. A beautiful compact tablet with long-lasting power, we are confident that children will enjoy the most comfortable hand grip, complemented by its extreme light weight."
TAGS: CG Slate