Samsung Launches Two Chrome OS Based Computers In The US?; Prices Start From $330
The Chromebook Series 5 550 features a 12.1" display for $450, while the Chromebox is a nettop at $330.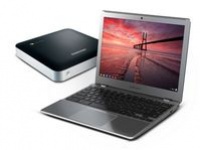 Samsung has launched a new Chromebook and Chromebox in the US. The latest addition to Chromebook family is the Series 5 550. On the other hand, the Chromebox is the first Nettop to run the Chrome OS.



The Series 5 550 is powered by an Intel Core CPU, but the manufacturer hasn't provided details on the processor's model number. It features a 12.1" screen with pixel dimensions of 1280x800, Wi-Fi, Gigabit ethernet, 2 USB ports, 4 GB of RAM, memory card slot, and an optional 3G modem. Starting price for the 5 550 is USD 450 (approx Rs 25,000)

.

The Chromebox has similar specs except for four additional USB ports, Bluetooth 3.0, and a DVI port. This gadget will set you back by USD 330 (approx Rs 18,500).



Although Google is very optimistic regarding its OS, Chrome-based computers haven't been doing well in the market. The search giant pushes cloud storage as its USP, however, many people don't like the idea of having a PC without a hard-drive.