Sony Launches Xperia U, P, And sola; Prices Start From Rs 17,400
Android 2.3 smartphones are meant to be entertainment devices, sport large touchscreens with the Mobile BRAVIA Engine.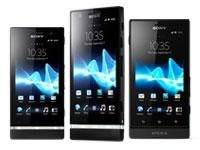 Sony Mobile has launched three new Xperia smartphones – U, P, and sola, in India today. This was the official launch after they were announced last month, when we had a chance to take a first look at the three models. They still come with Android 2.3 (Gingerbread), although the world has been moving fast to ICS. However, Sony says that an update will be made available by June this year.
The Xperia U and P smartphones with large touchscreens belong to the higher-end Xperia NXT line-up of next generation mobile phones, whereas the sola is a mid-range phone. Meant to deliver a better multimedia experience, these phones feature the Mobile BRAVIA Engine.
The Xperia U comes with a 3.5" display with pixel dimensions of 854x480 and is powered by a 1 GHz dual-core CPU with 512 MB RAM. It sports a 5 MP auto-focus rear camera with LED flash and a secondary VGA camera for video calling. With 8 GB (4 GB user-accessible) internal memory it lacks a microSD card slot for expandability. The Xperia P has a 4" (960x540) touchscreen and is powered by the same CPU as the Xperia U. It comes with an 8 MP rear camera sporting LED flash in addition to a front VGA camera, and 16 GB (13 GB user-accessible) internal memory, with no microSD expandability.
The Xperia sola is an NFC-ready model, and has a 3.7" touchscreen. Powered by the same CPU as the other two models, it has 8 GB (5 GB user-accessible) internal memory, which is expandable to 32 GB. An additional 50 GB of lifetime cloud storage has been made available by the company with each of the models. The Sony Xperia U, P, and sola are priced at Rs 17,400, Rs 25,800, and Rs 20,500, respectively. The Xperia P will be launched later this month, while the other two models are available as of now.
TAGS: Mobile Phones, Android, Sony, Xperia, Jayesh