WhatsApp Beta Gets Two-Step Verification As Added Security
Users will have to enter 6 digit pass code every time a particular phone number is registered with the app.
Most of you might have already activated the two-factor authentication to your Gmail accounts! Haven't you? Well, this essential security feature is now available on WhatsApp Beta app with version number 2.16.341 that can be downloaded via APKMirror.
This feature helps users to secure the whole process of registering phone number with the app. So, how does this work? Android Police has recently reported that the new latest version of WhatsApp beta app has the 'Two-Step Verification' option under Account Settings.
It is also being said that, by activating this feature, you need to provide a six digit passcode which should be entered every time you register your phone number with the app, and along with this, you will have to enter your email address, which can help you in resetting your pass code.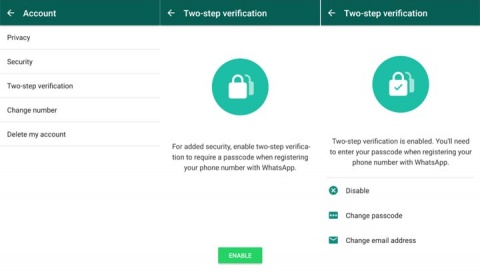 By enabling this mode, you can stay tension free as no one can access your WhatsApp messages even if your smartphone is lost. It is worth noting that this new feature has entered the beta app as of now, following the company's end-to-end encryption policy to protect chats between users.
However, while this feature is available on the beta app, we still do not know by when would this be available on to the public WhatsApp application, and also by when would iOS users be able to enjoy this essential security feature.
via BGR
TAGS: WhatsApp