Microsoft Launches So.cl, Its Social Offering, Without Much Fanfare
Refrains from directly competing against established rivals; portrays itself as a "new research experience for students".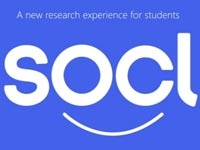 With social networking being one of the most happening online phenomena today, Microsoft has also tip-toed into the fray by quietly launching its social network called So.cl, which is pronounced as "Social". Before you jump the gun, we must state here that the software giant is promoting this new venture with students as its target audience, clearly mentioning this in its tag line as "A new research experience for students". It appears that MS is trying to take small steps, rather than take strides, and thus seems to be shying away from competing with the established players.
In fact, the FAQ page of the new social network states, "We expect students to continue using products such as Facebook, Twitter, LinkedIn and other existing social networks, as well as Bing, Google and other search tools. We hope to encourage students to reimagine how our everyday communication and learning tools can be improved, by researching, learning and sharing in their everyday lives". By the looks of it, the primary purpose of this project is to help students connect with each other and share information related to research.
MS goes on to term So.cl as "an experimental research project focused on the future of social experiences and learning, especially among younger people". It aims to combine search and social networking to aid learning. Users can log into the network using their Facebook or Windows Live account. They can then access a variety of topics, including those that the website suggests.
The website has a Bookmarklet feature that is similar in functionality to FB's Share or Recommend buttons, thus allowing users to share websites they find interesting, with other So.cl users. Online content can be shared via Bookmarklet via Share on So.cl button. There is also a riff feature available for posts, similar to the Like feature of FB. Video Parties is yet another interesting feature similar to Hangout from Google+, to lets users search for videos and watch them with other users. Although it is advertised to be for students, anyone can join So.cl for free, although you must keep in mind that your data will be publicly visible unless you opt to make it private.