ASUS Launches N56VM And G75VW Laptops For Rs 90,000 And Rs 1,40,000
High-end 15.6" notebooks based on Intel's Ivy Bridge CPUs are targeted at the entertainment and gaming segments.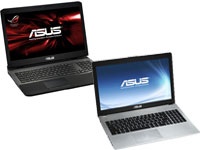 ASUS has launched two high-end laptops in India, the N56VM for multimedia and the G75VW for gaming. Both laptops are based on Intel's third-generation Core i7 quad-core processors,also known as Ivy Bridge, and are two of the company's more expensive models. While the former is priced at Rs 90,000, the latter will set you back by Rs 1,40,000.
The N56VM features a 15.6" Full HD LED-backlit display, and claims to offer a good aural experience using SonicMaster technology that has been developed in collaboration with Bang & Olufsen ICEpower, while Video Magic Technology is said to enhance the viewing experience. The G75VW, on the other hand, sports a Full HD 3D panel supporting NVIDIA 3D Vision, using the GeForce GTX 670M 3GB dedicated graphics inside, allowing you to game in 3D stereoscopic visuals. It boasts of 16 GB RAM, a 1.3 TB hard drive, and Blu-ray combo drive. Both laptops come with Windows 7 and are ready for the upcoming Windows 8 OS. While ASUS expects these two expensive models to account for 10% of its sales by the end of this year, in a budget-conscious market such as India, we are sceptical about how far that target can be achieved.