Aakash Maker Sues Indian Cellular Association, Claims Defamation
Datawind's CEO accuses ICA and Indian rival of spreading false reports in media and govt.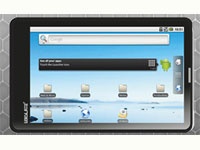 Datawind, the UK-based manufacturer of the world's cheapest tablet Aakash, has issued a legal notice to the Indian Cellular Association (ICA), claiming that the latter has been issuing commercially harmful statements against it. Company CEO Suneet Singh Tuli has stated in his first press conference since the launch of Aakash tablet, that the agency, along with a local tablet-maker who lost in the tender competition, has been spreading false reports against Datawind in the media and across various government meetings including the IT departments.
Meanwhile, the ICA President Pankaj Mohindroo dismissed the legal notice as baseless and has said that the organisation has only provided advice to the government, which it considered was in the best interest of the country. The ICA had reportedly recommended Samsung and Nokia for the Aakash-I project last year.
(link?) As reported earlier, Datawind is currently embroiled in a legal tussle against its assembler Quad, over non-payment of dues. Tuli has said that he will share wire-transfer payments details with the media in a conference scheduled on Friday, to clear up matters at its end. The company also plans to announce the launch of "Ubislate-II as the new supplier ecosystem" in another conference to be held next week.
We must also mention here that the MHRD's Aakash project has now been transferred to IIT Bombay from IIT Rajasthan, and the process of issuing a new purchase order for 1 lakh upgraded tablets is currently underway. Datawind says, "They will come up with a new test criterion. We plan to supply Aakash-II in May, once IIT Bombay approves tested devices". Here's hoping that with this move, the controversy-stricken low-cost tablet project will finally come back on the right track.
TAGS: Tablets, Education, Government, Android, Aakash, Jayesh