Rumour: iPhone 5 Will Be Made Of "Liquidmetal"
Industry source claims the phone will be built using special metal alloy to give it a smooth and premium feel.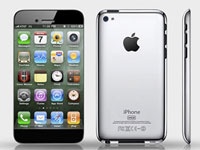 Apple could be making the upcoming iPhone 5 using "Liquidmetal" technology. The iPhone-maker had recently acquired rights to use Liquid Metal alloy from California-based Liquidmetal Technologies. Liquid Metal instantly reminds most of us of the Sci-Fi blockbuster Terminator 2, in which the antagonist is a shape-shifting android who melts into a liquid metal that appears like mercury. We are assuming that the new alloy will probably give the new device similar looks with smooth curves, and a design without any sharp edges; yet another hint at a unibody design.
The article reports that the next flagship products of Apple as well as Samsung will adopt exotic materials for their chassis. It states that while the iPhone 5 will use liquid metal, the GALAXY S III will use ceramic. While the latter is made of "high-tech ceramic using silicon nitride", the former is cast from an alloy created using zirconium, titanium, nickel, copper, and a few other metals to give it a smooth surface similar to liquid. Incidentally, both these materials are said to be thin, light, and highly resistant to external impacts, but it is the liquid metal that seems to be more appealing to the imaginative mind. The GALAXY S III is scheduled for a London unveiling on 3rd May and it has already been confirmed that will come in a ceramic body. The iPhone 5 is tentatively slated to debut at WWDC, San Francisco in June.
TAGS: Mobile Phones, Apple, iPhone, Jayesh