New iPad's 4G Feature Won't Work In India For Now
Problem caused due to airtel's 4G network using a different radio spectrum band.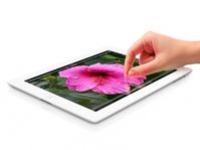 The new iPad, which has been around for a while, will officially hit Indian shores later this month. However, if you're in Kolkata or Bengaluru, and are looking forward to enjoying 4G speeds on the airtel 4G network with your fruity tablet, there's some bad news in store — you'll have to stick to Huawei USB modems for now. This is because the current Indian 4G LTE networks use a different radio spectrum band than the ones supported by the tablet. Effectively, this means the new device will fall back to 3G, as it will be incompatible with the available 4G network. However, this might change in the future when new spectrum bands are allocated.
India is not the only country where Apple is facing 4G network-related issues. Earlier, the company was dragged into court in Australia, as the third-generation iPad's 4G capability doesn't work there either, forcing Apple to offer refunds to misled buyers. A similar issue was reported in Britain as well. This is the first time that the company has officially launched its popular tablet in India within a few weeks of its global launch. How Apple's Indian fans react to this new development remains to be seen.
TAGS: Tablets, Telecom, Internet, airtel, Apple, iPad, Kamakshi