Burg Launches Mobile Phone Watches In India Starting From Rs 9000
Includes an MP3 player, VGA camera, and microSD card slot.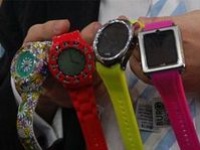 Netherland-based watch maker, Burg has launched a series of wrist watch mobile phones in India. The company is currently offering five watches namely, the Burg 9, Burg 10, Burg 11, Burg 12, and Burg 13.

According to the manufacturer, these watches are the "result of rigorous research". Despite thier small form-factor, Burg watches can handle phone calls, text messages, and can hold up to 500 contacts. The higher-end models come with bells and whistles such as the MP3 player, file manager, calculator, and a WAP browser. Additionally, these gadgets feature Bluetooth, microSD card slot, and a front-facing camera with video recording functionality. Reportedly, the watches sports a scratch-resistant touch pad. However, there's no word on the software onboard these devices.

The pricing for Burg watches start from Rs 9000, and go up to Rs 24,000. I know you can get a decent smartphone with this much money, but then wouldn't it be cool to make a call from your wrist watch?

TAGS: Mobile Phones, Gizmos, ck